Zimba and Millie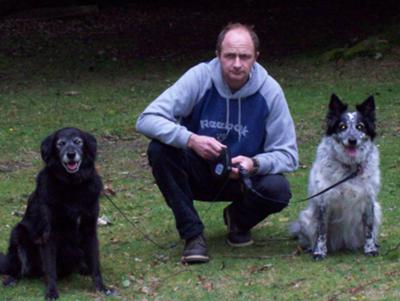 Millie & Zimba on holiday in the New Forest !
These are 2 of our 3 dogs.Zimba on the left and Millie are both 12.We rescued Zimba from Kennels in Kent when his owner died 5 1/2 yrs ago. He's very docile and a bit of a licker ! Two years ago he had a tumour removed from his side which left a 9 inch wound.He's started to slow down now and dawdles a bit ,but is still happy and full of bounce when he wants !
Millie was abandoned on a building site . My husband couldn't leave her there being fed scraps by the builders and nowhere dry and warm to sleep.She came home and has been with us now for 7 years.Her health has suffered over the last year,her sight is getting poor to a point where she has to walk alongside a wall,hedge not road side anymore.Her hips started to go last year but metacam has worked miracles.Although it wont cure the problem,it gives her a good quality of life again.She's very active.....her nickname is psycho !
Our lovely old dogs who are my best friends in their golden years.....