Senior dog products
Making your dog comfortable is a top priority for owners but becomes even more so as your friend succumbs to the passage of time. Senior dog products can help.
Dogs are living longer these days due to their improved social status and advances in veterinary medical care. Healthier feeding habits and more nutritional commercial food products also increase today's average dog longevity.
There are many senior dog products on the market today to keep your aging canine happy and healthy through its golden years. These products encompass items geared towards lifestyle and mobility improvements, safety and comfort, and overall well-being. Due to greater life span of dogs today, it is imperative for these products to be readily available for dogs extending into their senior years.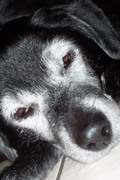 Lifestyle senior dog products encompass a plethora of available merchandise. These include such items as: beds, boots and shoes, collars and leads, behavioural aids, therapeutic and rehabilitative items, first aid and diapers. Mobility aids include carts and wheelchairs, pet strollers, steps and dog ramps. Of particular interest to senior dog owners are rehabilitative products which will assist your older canine with injuries sustained in older years. Braces, wraps and supports, splints, paw protection and pain relief supplements are available for those dogs in injury recovery. For those pets with limited mobility, such as hind quarter debilitation, ramps, strollers, carts, steps and wheelchairs are available.
A variety of senior dog products geared towards safety and comfort are also available. Bowls and feeders as well as comfortable beds will keep your canine content. Doors and gates are available to provide safety and security for your pet. Specialized doggie shoes will keep your senior friend's paws safe and free of injury. While travelling, cooling products, harnesses and car seats are provided for car travel, dog life jackets for travelling by sea and even protective goggles to shield your dog's sensitive eyes during excessive exposure to blowing wind.
Finally, many products exist to provide for the overall well-being of your pet. From dog dental care to ear and eye care, pampering can be provided for all aspects of your pet. For a senior's dogs coat there are grooming supplies such as flea and tick shampoos, powders,sprays and combs. They are all easily obtained from any good pet shop.
Supplements and senior dog food can also benefit your aging pooch by supplying much needed vitamins, minerals, fibre and protein to ensure your dog's nutrition is well balanced. Remember that as your dog ages, you can purchase a wide range of individualized products and merchandise to ensure your friend's satisfaction as he or she gets older.



Click here to return from 'Senior dog products' to 'My old dog homepage'