Senior Dog Comfort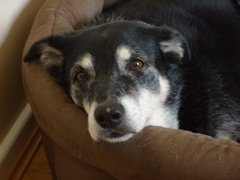 What is senior dog comfort? It includes items such as beds and other products that can help your aging pet to be comfortable old dog.
Dog owners want to ensure their aging friends live long and contented lives, free of soreness and disability as much as possible. Products which can help with their comfort can be very valuable
Bone and joint injuries or depletion, arthritis and spinal sensitivities all contribute to the aches and pains in senior dogs. So, as your dog ages, it is imperative to address the growing needs and concerns around senior dog comfort.
There is an assortment of products in today's market, that specifically provide for comfort. Beds come in a wide variety and are highly specialized for the senior dog population. Heated beds are available to counteract the detrimental effects of cold drafts on your dog's health and sore joints. Raised dog beds also provide a reprieve from the cold, are generally more durable than regular dog beds, and are sometimes even chew resistant. Cooling system equipped beds provide much needed relief during hot summer months. Orthopaedic beds will provide senior dog comfort and support to those with bone, joint and spinal disorders. Materials in orthopaedic beds can consist of memory foam, egg crate foam, coil springs or can be gel filled. My dog Pippa has a great memory foam bed. I can tell she absolutely loves it and I can wholeheartedly recommend them. It has maintained its shape when many other of her previous beds have lost theirs and it helps to cushion her joints. She can be seen modelling it in the picture above!
Older pets may begin to suffer from incontinence, and a once well house-trained friend, through no fault of their own, may commence inside accidents. Thankfully, senior dog products for incontinence are available to pet owners today. Absorbent diapers or nappies will keep your dog comfortable and free from embarrassment. They are especially useful during travel, and will ensure the comfort of your pet while also maintaining cleanliness in both your home and vehicle. They come in varying sizes and rates of absorbencies, and are also specially designed for either male or female pets. Both disposable as well as washable and reusable diapers and nappies are obtainable.
The health, contentment and well being of senior canines are of paramount significance to owners of aging dogs. Your veterinarian can assist in guiding you in the evaluation of products that will be most beneficial to your dog, based on individualized requirements. High tech dog beds, diapers and nappies are goods that you may want to consider as an investment in your senior friend's long term health care program. By purchasing specialized senior dog comfort products, in line with your pet's specialized and unique needs, your pet will have every luxury and amenity to make him immediately more comfortable and fulfilled.



Click here to return from 'Senior dog comfort' to 'My old dog homepage'