Dog Loss - Coping with the loss of your dog
Dog Loss (Bereavement) – How to Cope
Coping with the loss of your dog is something I have had to experience on a personal level with my previous dog called Ben. It was a very upsetting time of my life for both myself and my family and it was made harder because we had to make the decision to have him 'put down' or rather euthanized. Making the decision to euthanise your dog can be extremely difficult. I will never forget that sad time. I will also never forget the feeling of returning home to a an empty dog bed, a half eaten feeding bowl, his blanket and dog toys whilst trying to comprehend that my dog would never be coming home again. It does however mean I can empathise entirely with people who have lost their dog.
After spending many years with your senior dog, a family often considers their dog a sibling or child. I know we certainly considered my first dog Ben as a family member and not just a pet dog. The same can now be said about Pippa. The bond of companionship grows strong over time, and attachments run deep. When your aging dog finally passes, it is felt as a great loss, and naturally extensive grief may follow.
Here are some suggestions to assist you with dealing with dog loss: After your beloved friend's passing, be sure to liberally express your grief. Grief is a necessary step in the healing process after the loss of your dog. You may choose to perform a service or erect a memorial for the recently deceased. If cremated, your dog's ashes could be buried or scattered in his favorite place or at a special place along the route of their favourite walk (check local bylaws). To help keep your dog's memory alive, you can create scrapbooks or photo albums representing your pet as a lively part of your family. You could even choose to create a web page as a special tribute to their memory. You may choose to leave your dog's belongings intact to kindle happy memories when you view them daily, however, some find that the daily reminders are too painful, and prefer to box, store or give away their friend's old things. I know that we found it too painful to have Ben's old items lying around and the first thing we did was to remove them and give them to a local dogs home.
Participation in bereavement groups can provide great comfort and support when coping with dog loss. You will be surrounded by individuals experiencing the same painful feelings. This support system will grant compassion and empathy, but will also present you with opportunities in which you can share the past joys you experienced with your pet. Donations are another effective way to work through your grief. By donating money to your favourite animal charity, you not only help other animals but also honour your own dog's life. You can also volunteer at shelters or rescue groups to ease the pain caused by the loss of your dog.
Children may find the loss more difficult to cope with, as young ones have generally not had much experience with death, and cannot understand the reasons for their friend's demise. It is best not to use phrases with children such as 'gone to sleep' or 'put to sleep' to explain a dogs death, as this can cause confusion and a fear of going to sleep for children. It is best to be truthful and upfront with them from the start.
This is something that I trying to prepare my own children for with Pippa, who are at the time of writing aged 5 and 8 years old. They have always known Pippa and grown up with her since being born and love her to bits. I know that when Pippa's time comes they will find it very hard to deal with. It is something I would rather not think about but at the same time I know I have got to be practical.
Explaining the loss of your dog to a child can be difficult. Although it's natural to protect children from pain, a child's understanding of their pet's death may shape their future coping mechanisms. Dependent upon the age of the child, communication techniques and responses to death differ. Very young children may feel responsible for the loss of their pet, and may feel the pet is destined to return. Older children may suffer from depression, or begin to fear the death of other family members. Regardless of the child's age, it is important to reinforce the permanence of death, so your children can grieve then accept their loss. Eventually, the grieving process will end, and family members can focus on the joy their pet's life had brought.
One particular site that I have found to have some excellent articles on coping with pet loss is the 'Ease' Animal Charity based in the UK. They even offer a free 'Preparing for pet loss' email counselling service. They can be found here

When dealing with the loss of your pet the following story below might help. It was sent to me by email from a reader of the site in Canada. It went like this:-
Paul,
This is one of the kindest things you may ever see.It is not known who replied, but there is a beautiful soul working in the Dead Letter Office of the US Postal Service.
Merl....
---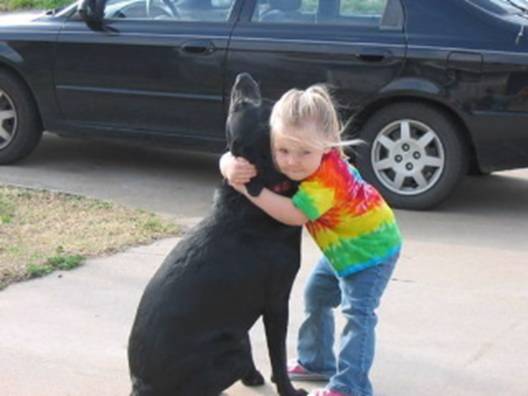 Our 14 year old dog, Abbey, died last month. The day after she died, my 4 year old daughter, Meredith, was crying and talking about how much she missed Abbey. She asked if we could write a letter to God so that when Abbey got to heaven, God would recognize her. I told her that I thought we could so she dictated these words:
Dear God,
Will you please take care of my dog? She died yesterday and is with you in heaven. I miss her very much. I am happy that you let me have her as my dog even though she got sick.
I hope you will play with her. She likes to play with balls and to swim. I am sending a picture of her so when you see her You will know that she is my dog. I really miss her.
Love, Meredith
We put the letter in an envelope with a picture of Abbey and Meredith and addressed it to God/Heaven. We put our return address on it. Then Meredith pasted several stamps on the front of the envelope because she said it would take lots of stamps to get the letter all the way to heaven. That afternoon she dropped it into the letter box at the post office. A few days later, she asked if God had gotten the letter yet. I told her that I thought he had.
Yesterday, there was a package wrapped in gold paper on our front porch addressed, 'To Meredith' in unfamiliar hand writing. Meredith opened it. Inside was a book by Mr. Rogers called, 'When a Pet Dies.' Taped to the inside front cover was the letter we had written to God in its opened envelope. On the opposite page was the picture of Abbey & Meredith and this note:
Dear Meredith,
Abbey arrived safely in heaven.Having the picture was a big help. I recognized Abbey right away.Abbey isn't sick anymore. Her spirit is here with me just like it stays in your heart. Abbey loved being your dog. Since we don't need our bodies in heaven, I don't have any pockets to keep your picture in, so I am sending it back to you in this little book for you to keep and have something to remember Abbey by.
Thank you for the beautiful letter and thank your mother for helping you write it and sending it to me. What a wonderful mother you have. I picked her especially for you.
I send my blessings every day and remember that I love you very much. By the way, I'm easy to find, I am wherever there is love.
Love,God


Click here to return from 'Dog loss' to 'My old dog homepage'