An old dog has special needs and considerations that deserve to be met.
Doesn't your old dog deserve some extra love, care and attention?
Of course they do!
A dogs lifespan covers just a part of ours but the relationship and bond you will have developed with your dog over the years is a very special one indeed.
I am sure you will have shared many precious moments together. Throughout the good and maybe not so good times of your life, one thing has always remained constant - your faithful friend by your side.
With the passing of years, there comes a time when you will start to notice the gradual onset of ageing has arrived.
The first noticeable signs are usually a graying of the hairs around the muzzle, signs of joint stiffness and a general slowing down.
It is a fact that dogs are now living longer than ever before, much longer than nature intended.
Advances in veterinary science, medication and nutrition means that some old dogs have become true geriatrics in every sense of the word. Some dogs are now living very long lives.
This means a dog can live for many years with the symptoms of old age and now your friend is starting to age they will appreciate some special care and attention.
I have created this site as a source of information especially for the older dog owner.
As a current and previous owner of a senior dog, I found it was hard to find enough information for this special time in a dogs life, at a time when much information is needed.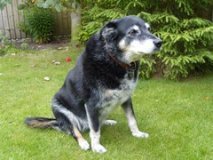 The information I could find was usually fragments spread over many different, general sites about dogs. These sites tended to have just a small feature on older dogs.
I have therefore created a site just for senior dogs. The picture on the right is of my old dog Pippa. It is whilst watching her age gracefully that I was also motivated to create this site.
Content included on the site includes first aid, health care, common health problems, senior dog food and nutrition, more detailed signs of ageing and senior dog products. Also included are more sensitive issues such as euthanasia and bereavement.
I hope you find the site both enjoyable and informative.
It is still in its construction phase so please check back regularly as new information is added.
Recognising the signs of an elderly dog
Senior dog care - understand the changing needs of your older dog
The life span of dogs. How old is my dog in equivalent human years?
Old dog health problems - Information about the main ailments which could affect your senior dog
First aid for dogs
Old Dog Safety - Items of Protection: Tracking and Reflection Devices, First Aid Kits
Senior Dog Supplements – Joint care, anxiety, bad breath, vitamin supplements for the older dog
Dog Mobility Aids – Tools to help your senior dog get mobile again including ramps, steps, harness, wheels
Senior Dog Nutrition – Feeding and nutrition for your old dog
Senior Dog Clothing – Keep your Dog Comfortable and Protected. Including information on dog boots and dog coats
Senior dog comfort
Senior Dog Products - Make your old dog comfortable
Dog loss - how to cope with the loss of your dog
This is your chance to tell us all about <em>your</em> old dog
Further quality links and information on dogs
Information about me my old dog
All the latest news from the world of dogs
Here you can find the latest updates to this site in blog format. Just click on the orange RSS button to subscribe to this feed.
Contact me
Would you like to share your knowledge about old dog? Great, find out how you can submit your story or tip here.