Our Old Jake
by Jo
(Haydock)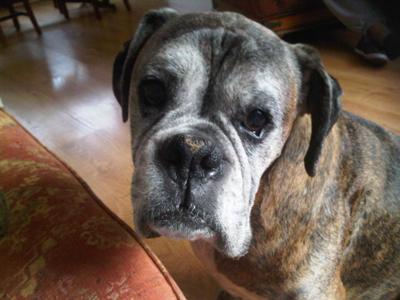 Jake
Jake is a boxer who came to us around six months old after a work colleague of mine at the time found him too boisterous for her young daughter. The intention was that we would look after him until she could find a suitable home but from the moment he trotted through the front door we knew he would be ours for life!

In the first few years he managed to destroy every cushion on the sofa (at once), a double bed (twice) and several door frames. He is partial to socks; clean or worn, he isn't fussy and his favourite food is anything that you happen to be eating although he never begs - just sits slightly to one side and looks at you out of the corner of his eye with that 'it's a shame for me, I am wasting away while you are eating that' look which, judging by the love handles, he obviously isn't!

He is a real cheeky character and such a softy who loves his creature comforts - especially the bed slap bang in the middle!

He loved his walks but now, at 11 age is catching up with him as is arthritis and he finds even a walk around the block a little too much. The last couple of times we have had to carry him home!

Jake has been there for us through difficult times especially the loss of my mother in law - I truly believe that everything happens for a reason. Jake came to us six months before she sadly lost her battle with lung cancer and he helped my partner through this very difficult time.

He makes us smile every day and I know if he could talk, he would probably say the same about us too. We often ask each other if he knows we love him and I know the answer is yes - he tells me every time he looks at me!